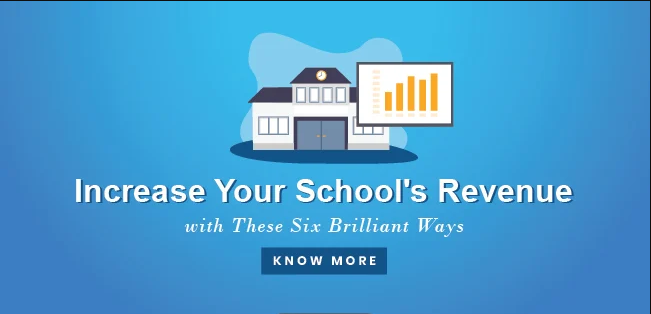 Education
6 Brilliant Ways to Increase Your School Revenue
Every school strives to provide top-notch education, but budget constraints and rising costs pose significant challenges. To ensure your school's financial stability, it's important to have a proper track record.
Here, you can easily use accounting management system software design to make everything transparent. But this is not enough. So, what to do?
Here, today's blog shares top ways to improve your school revenue. So, let's get started!
1. Foster School Spirit through Merchandise:
Boost school spirit by offering stylish merchandise. Think beyond t-shirts to hats, sweatshirts, stickers, and more, all proudly displaying your school's logo and colors. Sell them on your school's website, at events, or local stores, with secure online payment options and flexible shipping.
2. Share Your Space:
During off-hours, your campus can be a valuable community resource. Rent out facilities for weddings, corporate events, or community gatherings. Start with a list of available spaces, from gymnasiums to outdoor fields, and create a rental package with pricing, availability, and booking info.
Promote your rental services through your school's website, social media, and local media outlets. Expand your reach by reaching out to local businesses and organizations.
3. Explore Grants and Donations:
Seek grants and donations to support your school. Begin by searching for grant opportunities online or contact your local school district and state education agency for guidance.
When drafting grant proposals, be transparent about how funds will benefit your students. Provide detailed budget information and establish a clear project timeline.
4. Forge Partnerships with Businesses and Organizations:
Build partnerships with local businesses and organizations to boost revenue, gain access to resources, and create valuable learning experiences for students. Some partnership ideas include offering discounts, providing volunteer opportunities, creating mentorship programs, or offering internships and job shadowing.
Choose partners that align with your school's values and share a commitment to education.
5. Invest in Marketing and Recruitment:
Increasing your school's enrollment is a fundamental way to bolster revenue. To attract more students, consider the following strategies:
Develop a captivating online presence, complete with an appealing website that highlights your school's strengths and active engagement on popular social media platforms.
Attend college fairs and community events where you can interact with prospective students and their families to showcase what your school has to offer.
Collaborate with local businesses and organizations to promote your school to a broader audience.
To attract new students, consider offering tuition discounts, scholarships, or other financial incentives that can make your school more accessible.
6. Optimize Efficiency and Reduce Costs:
Increasing revenue doesn't always mean expanding. Sometimes, it's about optimizing what you already have. Enhance your school's financial health by:
Negotiating better deals with vendors.
Implementing energy-efficient practices to reduce consumption.
Streamlining administrative processes for increased efficiency.
Evaluating programs and services to identify consolidation opportunities.
Bonus Tips:
Managing school fees and tuition payments can be a complex and time-consuming task for both educational institutions and parents. Implementing an automated fee collection system can significantly simplify this process, offering benefits for all stakeholders involved.
There are many fee collection software for school that you can use to improve your business. For schools, automation ensures accuracy and efficiency in tracking fee payments, generating digital records that are easily accessible and manageable. It reduces the chances of errors or missed payments, resulting in a smoother financial operation.
Furthermore, automated fee collection can improve transparency by providing real-time access to payment history and outstanding balances, enabling parents and guardians to stay informed about their financial obligations to the school.
Wrapping Up:
These six strategies provide a comprehensive roadmap for enhancing revenue and financial stability at your school. By implementing these innovative approaches, you can ensure your school thrives while providing students with an exceptional education. Remember, it's not just about finances; it's about fostering a stronger, more engaged school community.